If you're looking for a charter bus rental company in Indianapolis, Indiana, look no further than Indianapolis Charter. We offer an extensive fleet of vehicles from our partner companies that can accommodate any type of group. If you're traveling with coworkers, students or other groups of people, we have the right size bus to meet your needs. Our buses are available on short notice and can be conveniently picked up at one location to be driven directly to another location without stopping anywhere in between.
Charter Buses For Hire

Search All Rentals NowGet Pricing & Availability
When you are at Indianapolis you could avail of our party bus coaches that work well for different travel requirements. If there is a birthday to celebrate, why not avail of our birthday packages that come cheap and affordable? Many people celebrate bachelor parties on board our limo coaches as well. We provide all amenities on board to ensure that your entertainment is complete. With our limos for hire we have luxury accessories that can make your ride about town a special one for sure. Ask for party bus rental quotes from our agency today.
Charter bus rentals

View Party Bus RentalsSee More Photos & Prices
To book one of the rides through our party bus rental Indianapolis service you need not look far. We are well listed in most major town directories and our contact details can be found easily on our site. We can take your bookings on the go as well. We provide varying coaches and models that depend on the number of passengers traveling or any other requirement one might have.
You could choose between party buses, shuttle buses, charter buses and others like motor coaches. These can seat passengers of varying numbers up to 50. Hence, the party bus for birthday parties can be booked for corporate transfers or for airport shuttle rides as well.
Get one of our limos for hire through the limo service Indianapolis that we offer. These consist of models and make that are premier and special like Hummer Limo, Cadillac Escalade, Ford Excursion, Chrysler 300, BMW, Mercedes Benz, Lexus or other models. These are popular among wedding couples who are looking for a special and quality vehicle for their special day.
The shuttle coaches and limos are adequate when 2 to 14 people wish to travel as small groups.
Charter bus rentals party bus and limo service prices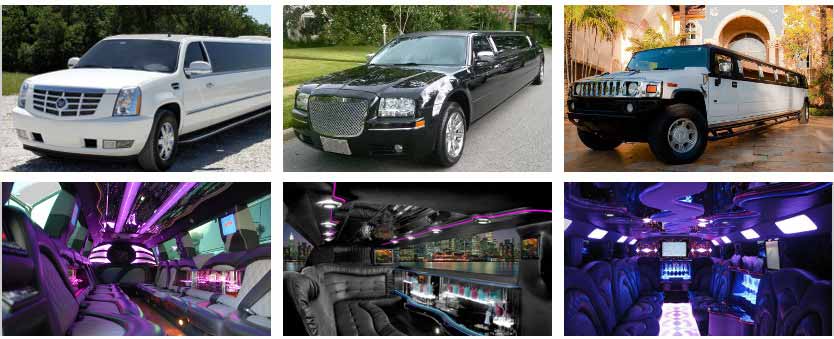 View Limo RentalsSee More Photos & Pricing
The prices that we charge for our limos for hire and party bus rentals are reasonable. The rates vary as per the number of passengers who would be traveling, the hours you wish to travel, distance you wish to cover as well as facilities that you wish to use. We also offer discounts from time to time. There are attractive packages that work well for customers who are looking to book in bulk.
Things to do

If you are wondering what are the places to visit in and around Indianapolis here is a list of places:
Children's Museum Indianapolis; if you are new here, visit this museum with your children. They will love the exhibits on display here.
Brickyard 400; Indianapolis is a place for motor racing enthusiasts. The NASCAR events are held here annually. You could also check out the iconic race track that was built with over 3 million bricks.
Indianapolis Motor Speedway Museum; this is a museum that has exhibits for motor racing events.
These are some of the landmark places that you can visit with our party bus rental Indianapolis. For group rides about this region you will find our bus rentals for trips the perfect solution.
Popular Bus Types
When you are in the market for a charter bus rental in Indianapolis, you have many options. This can be overwhelming and complicated, but we at Indianapolis Charters want to help you make your decision easier by explaining what these options are and how they differ from one another. If your event is large enough that it requires more passengers than the average bus can carry, then a motorcoach may be the best option for you. These buses feature larger capacities than standard buses or vans and offer amenities such as air conditioning, Wi-Fi access and televisions. Motorcoaches also offer different seating configurations to fit all of your guests comfortably whether they're sitting alone or with others on long trips across town or across state lines!
Groups and Events We Service
Our city offers an incredible variety of things to do and places to stay. You can choose from our top-notch museums and theaters, or you can get involved in the racing culture and cheer on your favorite driver at one of our many racing events. No matter what kind of group you have coming into town, Indianapolis has something for everyone! If you are looking for something event-specific, then we recommend renting our charter buses for weddings, sporting events like basketball games or football games (during football season), conventions such as Comic Con (during Comic Con), and more! In addition to these major events that happen every year we also offer transportation services all year long so if anyone needs transportation services whether they are traveling by plane because they need help getting from one airport/convention center location or another then we can provide that service too!
How Much Does a Charter Bus Rental Cost in Indianapolis Indiana?
The answer to this question depends on many factors such as: the type of vehicle you need, how long you need it for and how far you are riding. But as a general rule of thumb, if you're planning on taking a trip that is less than 150 miles roundtrip (and doesn't go outside of Marion County), then the cost will usually start at $150 per hour with 4 hours included in that price.** In addition to your initial hourly fee, there will also be additional mileage charges based on how many miles were traveled during your ride. Typically these fees range cents per mile to 1 dollar per mile depending on whether or not your route was interstate or not (interstate routes tend to have higher rates).
Airport Transportation in Indianapolis Indiana
Whether you need a bus rental for a corporate event, wedding or school field trip, Indianapolis Charters is here to help. Our easy-to-use reservation system allows you to select from our fleet of coach buses, charter buses and motorcoaches and reserve online today. We also provide one of the best airport shuttle services in Indianapolis. Our fleet includes 13 passenger vans for small groups or individuals traveling together. We offer free WiFi and other amenities making your trip as stress free as possible!
Safe and Comfortable Field Trip Transportation
The first thing you should do is make sure that your trip is safe. You don't want to have to worry about the wellbeing of your students, so it's important that you book with a reputable company. This means that they should have experience with transporting children and have proper licensing. If there isn't enough legroom, then some kids could get upset and distracted from learning material! It's best if everyone has at least enough space for themseleves without bumping into anyone else because it'll keep energy levels high throughout entire trip which will help students learn faster than usual due their happiness during these educational field trips!
Keep Your Convention or Conference Running on Time
A well-made schedule is one of the most important things you can have when planning an event. It will keep your attendees on track, help them stay together and make sure that everyone is included in the fun. If you are looking for a bus rental service in Indianapolis, Indiana to help you keep your convention or conference running on time, then look no further than Indianapolis Charter Bus. Our team members have extensive experience in providing transportation services to large groups of people and they know how to do it right! We will work with you from start to finish so that we can guarantee that everyone has an amazing time at your event!
Spacious Bus Rentals for Sports Teams and Fans
If you are a sports fan or are looking to charter a bus for your team, Indianapolis Charter Buses has got you covered. We offer the best prices on charters from any location in Indianapolis Indiana. Our team is dedicated to making sure that each customer is taken care of and receives the best service possible. We have buses for all types of sporting events.
Customized Long-Term Shuttle Services
Indianapolis Indiana long-term shuttle services are available with Indianapolis charter bus rentals. Our Indianapolis Indiana long-term shuttle service is one of the most popular services that we offer at our company. If you are planning a wedding, reunion or another large event and need reliable transportation for your guests then we can help you out. Our Indianapolis Indiana long-term shuttle service can accommodate up to 40 people in each vehicle and they have multiple stops throughout the city where they can drop off and pick up passengers so that everyone arrives safely at their destinations on time! The best part about this service is that it is affordable as well! No matter how many people you need transported from one location to another we will work with you to create a custom quote for your needs.
Wedding Shuttles
It's a fact that Indianapolis, Indiana is the perfect place for a wedding. This state is known for its beautiful scenery and friendly people, so you can expect your guests to have an amazing time here. In addition to all of this, there are many wedding venues available in Indianapolis that are sure to meet any bride's needs. We have helped many couples plan their weddings with our fleet of buses and shuttles throughout the years, and we'd love to help plan yours too! If you're planning on getting married soon and need some extra transportation for your guests then please contact us today!
More About Group Travel in Indianapolis Indiana
Indianapolis is not only home to the Indianapolis Motor Speedway and the NCAA Basketball Tournament, but it's also home to some of the best group travel services in Indiana. If you're planning a trip with your company or organization in Indianapolis, then start your search for a reliable charter bus rental service by contacting us today! We offer both motorcoach and minibus rentals for groups of all sizes. With our high quality vehicles and expert drivers, we'll help take care of all of your transportation needs throughout Indianapolis. Our fleet includes buses ranging from 22 passenger coaches (coaches), luxury tour buses that can seat up to 48 people, party buses that hold 54 passengers comfortably while still having room inside for dancing and other activities, as well as minivans suitable for carrying 12-15 passengers each. No matter what kind of bus rental service you need during your trip through Indianapolis—there's no better option than us!
Find the best transportation service
When choosing a company to provide your transportation service, keep these things in mind: Choose a company with a good reputation. Do they have any reviews on social media sites like Facebook and Yelp? If so, what are they saying about them? What steps did Indianapolis Charter Bus Service take to remedy these issues—if anything at all—and did those efforts work out for everyone involved (i.e., not just for Indianapolis Charter Bus Service but also for its customers)?